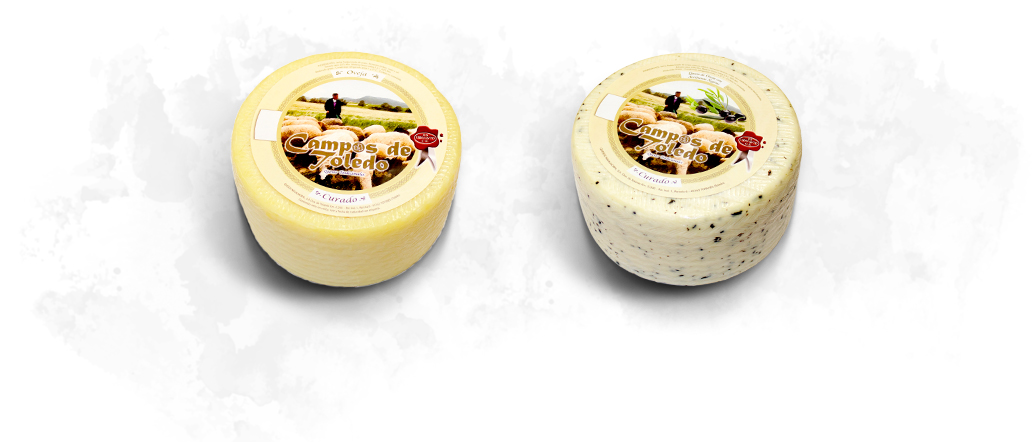 Sheep cheese is made from milk collected in different farms in the area of the Montes de Toledo, producing a special milk that provides the delicious and characteristic flavour to the product.
It is made throughout the year. We differentiate the semi-mature and mature cheese according to the curing period. The first one has a ripening period of at least 60 days, the cured one of 180 days and the old one of 270 days.
The cheese has an ivory color, and the holes are evenly distributed throughout the paste.
The texture is creamy and melts in the mouth. It has a mild, nutty flavour that is unique to sheep's milk.
All of our cheeses are made without any food additives and free of lysozyme, natamycin and sorbates.
Without gluten.
Technical Sheet
Product Ref.: Sheep Cheese
Elaboration
Product obtained from fresh sheep's milk.
Ingredients

Pasteurized Sheep's milk.
Lactic Ferments
Rennet
Salt
Maturation
Minimum 30 days
Physical-Chemical Analysis
ParameterSpecifications
Dry Extract (%)min. 55%
Fatty Matter (%)min. 27,5%
Fat in dry matter (%)min. 45%
Sodium Chloride (%)Aprox. 1,5%
Nutritional Values
464 kcal
Protein25 g /100 g
Fats38 g / 100 g
Saturated Fats22,8 g / 100 g
Carbohydrates, of which sugars0,1 g /100 g
Salt1,5 g / 100 g
Sodium550 mg / 100 g
Calcium820 mg / 100 g
Sales Unit
PresentationRound cheese, block format
Packing Unit
Type of packagingVacuum packaging and Cardboard box
Units per box2
Update: Issue 4
Validity: Since January 2017
For more information about our products please write to our commercial department, we will get back to you as soon as posible: