Our Tradition in the Dairy Sector
Our tradition in the cheese world goes back to 1940 with Domingo García Martínez, grandfather of Mr. Pedro García Navalmoral, current President and CEO and of Mr. Álvaro García Navalmoral, CFO of Quesos Navalmoral S.A. Our Company combines the experience of past generations with the technology and quality standards of the new generation.
Domingo García Martínez, who belonged to a family from Madrid, always linked to livestock, began working as a General Manager in a Company called Central Quesera Española, that was number one in sales between 1940 and 1970. In the early 60's he participated in the foundation of Queserías Ibéricas, carrying out the tasks of negotiating with the farmers and purchasing the raw material. Later, his son Pedro García Martínez, took over the milk purchasing department until his retirement.
In 2001, one of Pedro García Martínez's sons, Pedro García Navalmoral, finished his studies in Dairy Industries and Cheesemaking, culminating with a Master's Degree in International Cheesemaking in France.
The family business Quesos Navalmoral S.A. was created in 2003. The construction work of the Company began in 2004, and, the first cheese manufacture was made on March 19th 2005.
The Company started producing Mixed Cheeses, and later began producing Sheep Cheeses and Goat Cheeses. In 2007 they began to work on the production of the PDO Manchego Cheese. At present, Quesos Navalmoral S.A. occupies the first places of the ranking in the manufacture of the prestigious PDO Manchego Cheese.
The factory is specialized in the production of PDO Manchego Cheese, Iberico Cheese and Goat Cheese.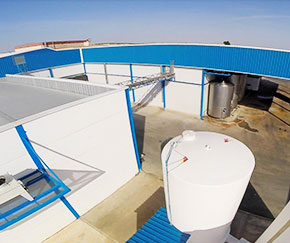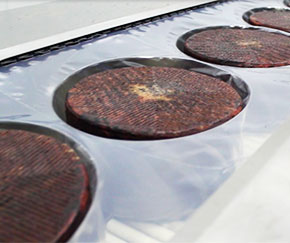 The Facilities
The Cheese Factory has 6.000 m2 built in an area of 37.000 m2. It was designed by Pedro García Navalmoral. It is a modern construction, equipped with the latest production technologies in order to guarantee the strict compliance with national and international quality standards. The building has been designed to produce 3.000.000 Kg of cheese a year.
The factory includes a Milk Reception Room, a fully automatic Production Room, 2 Salting Rooms, 4 Maturation Chambers and 5 Conservation Chambers with a storage capacity of 280.000 Kg. each. There is also an Delivery Room and a Storage Area.
Respect for the Enviroment
In Quesos Navalmoral S.A. we are very aware of the environment. All of the chemicals used in cleaning the factory are biodegradable.
Due to our new technology, we save a lot of water daily, in an effort to reduce the use of this valuable natural resource. All of the wastewater is treated by a purification plant and then sent to a new high performance municipal wastewater treatment plant.
Our Cheese Plant has the necessary technology to separate the liquid whey from the solid through a filter system. Subsequently the whey is transported to a whey treatment plant. Thus we save energy to reduce environmental pollution.